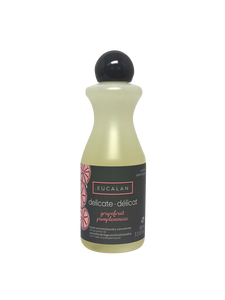 Eucalan Wool Wash is a lanolin enriched gentle wash ideal for your woolly items, but also great for washing delicates such as swimwear, lingerie and baby garments. Easy to use, with no rinsing required!
There are five fragrances available - Eucalyptus, Grapefruit, Jasmine, Lavender and Unscented. All are made with lanolin and contain natural essential oils. 
How to use for handwashing woollens: simply add 5ml (1tsp) to 4 litres of tepid water. Immerse item(s) and squeeze gently, then soak for 15 minutes or more. No need to rinse out. Lay flat to dry. 
Please note that bottle design may vary.